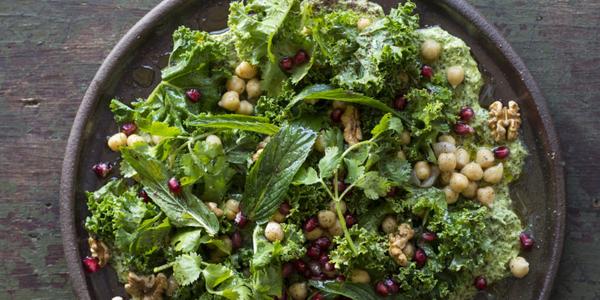 The MY Food healthy meal plans offer a great tasty range of breakfasts lunches and dinners. But for those of you on the lunch and dinner plans or eating the MY Food diet plans from Monday to Friday. There are a few extra meals you will need to fill in. Check out our chef Liz's delicious chickpea and kale salad with parsley and spinach tahini. I love it for a weekend brunch!
Ingredients
1 handful activated walnuts.
1/2 lemon, juiced.
1 bunch young kale.
200 g chickpeas, cooked.
1 handful coriander leaves, fresh.
1 handful mint leaves, fresh.
1 tablespoon spring onion, thinly sliced.
1 tablespoon each of black and white sesame seeds, toasted.
1/2 pomegranate, seeds only.
1 tablespoon extra virgin olive oil.
1 pinch sumac
Parley and spinach tahini
115g tahini
1/2 tablespoon garlic crushed
1/4 tablespoon sea salt
5g baby spinach
50ml olive oil
1/4 bunch flat leaf parsley
1/4 bunch coriander leaves
Start with creating your tahini! Add to your blender the tahini, 125ml water, garlic, sea salt, lemon juice and baby spinach leaves and wiz until your liquid is smooth. Add in the olive oil and fold through the parsley and coriander.
Now its time to make your salad! You will need to toast your walnuts in the oven! Set the oven to 70 degrees celsius and toast the walnuts over night.
Season your kale with a pinch of salt and the lemon and allow it to marinate for 30 minutes or so.
Leave the juice from the kale and lemon and add all other ingredients together (not your tahini or sumac).
Toss your salad to mix it with the juice and add the tahini over the top and finally add a sprinkle of sumac.
Stay healthy
Happy eating 🙂